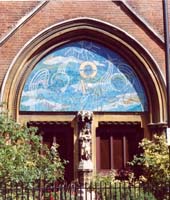 Our regular Church Service times are each:
Sunday
08.30 Holy Communion (Book of Common Prayer)
10.00 Family Eucharist and Junior Church
Monday
11.00 Holy Eucharist
Thursday
10.00 Holy Eucharist
Information on other services including Church Festivals and Saints Days can be obtained from the Parish Office or found at WHAT'S ON. Please contact Father David regarding arrangements for funerals, baptisms and marriages.
NB. There are no 8.30am Sunday services during the month of August.
Parish Pilgrimage to Walsingham – 15th-17th June 2018
After a few years' break, we're planning to go back to Walsingham on a Parish pilgrimage on the weekend of 15-17 June. For more information, please contact Fr Andy via the Parish Office on administrator@hisj.co.uk or 020 8748 2286 (Mon-Fri 9am-1pm).